By
Daniel Rha, Technical Consultant
-
Have you ever received a text message from a brand to confirm an appointment or to share an ongoing discount?
If yes, you've experienced an SMS marketing campaign first-hand!
With a 98% open rate, SMS messages have quickly become one of the best ways to stay in touch with your customers. If used correctly, SMS marketing can help you form a personal and instant connection with your customers, and here's why:
Almost 90% of smartphone users check their phones within 30 minutes of waking up

IDC Research suggests that 79% of Americans are within arm's distance of their phones for at least 22 hours per day

Half of the consumers respond to texts within 3 minutes of receiving them
All this means is that when you send your customers an SMS message, it's highly likely that they will see it within the first few minutes. With over 290 million smartphone users in the States alone (that's a lot of eyes!), SMS marketing is a critical opportunity for brands to get targeted messages in front of customers and engage them through valuable content and special offers.
We know setting up the infrastructure for SMS marketing can be daunting, and we're here to help!
Today's guide will walk you through the basics of SMS campaigns, important terms to know, where to begin with creating your SMS strategy, and general best practices.
Let's get started!
What is SMS?
Short Message Service (SMS) allows you to send personalized text messages to your customers' smartphones, typically under 160 characters

To help you visualize the various ways you can leverage SMS in marketing campaigns for your brand, we've included a few examples in this guide
Why use SMS campaigns?
Marketers often focus on social media as the primary communication channel for customers, overlooking how powerful SMS messaging can be

SMS marketing is more personal than social media mass marketing; with a good SMS strategy, your customers will be excited to receive text messages from you because they know they cannot get the same deals on your other channels

90+% of customers would opt-in willingly to receive texts from their favorite brands that they trust

With consumers' constant connection to their mobile phones, SMS marketing boasts high open rates, instant attention, and increased engagement, leading to better ROI than traditional digital marketing forms
Popular uses for SMS marketing campaigns + examples
Booking/appointment reminders and confirmations
Example: Hi [CLIENT]. Kindly reply YES to confirm your finance planning appointment booked with [CONSULTANT] on [DATE] [TIME]. See you soon!

Follow-ups and feedback
Example: Hello [NAME]! We hope you enjoyed the quick claim processing for your [DAMAGED-PROPERTY-NAME]. Please give us a Google review at [INSERT-LINK] and help us reach more clients. Many thanks, [AGENT-NAME], [BUSINESS-NAME].

Coupons and exclusive deals
Example: Thanks for joining [BUSINESS-NAME]'s mailing list. As a thank you, here's a coupon for 10% off your first order! https://bit.ly/367JCtq

Reviews and polls to improve products and brands
Example: "Hey [NAME], thank you for visiting us today! To help us best serve you and other customers, could you click here [LINK] to answer one question about your experience today? Thank you! [COMPANY-NAME]"

Contests, competitions and giveaways
Example: We're giving the first 100 people to buy from our just launched summer collection a $25 gift card. If you want to be one of the lucky few, check it out here: https://bit.ly/367JCtq
Important SMS terms to know before you begin
Application-to-Person (A2P)
This is how MobileConnect works — you create the message in the Salesforce app and send it to a customer.
Mobile providers across the globe.
Protects Canadian consumers and businesses from the misuse of digital technology, including spam and other electronic threats.
A US trade group who represents communication sectors including cellular services. They maintain a handbook of short code regulations and best practices.
A US government organization that regulates the SMS laws.
A unique word or string of characters that SMS subscribers can use to interact with your short code and opt-in to certain types of campaigns.
Mobile-originated (MO) messages are sent by customers from their phone. Inbound messages require two-way communication availability.
This refers to a mobile-terminated (MT) message, or the messages you send to customers.

SMS codes to know before you begin
In order to send a message to a subscriber, you first need SMS code(s). Below is a breakdown that will help you understand the difference between long and short SMS codes.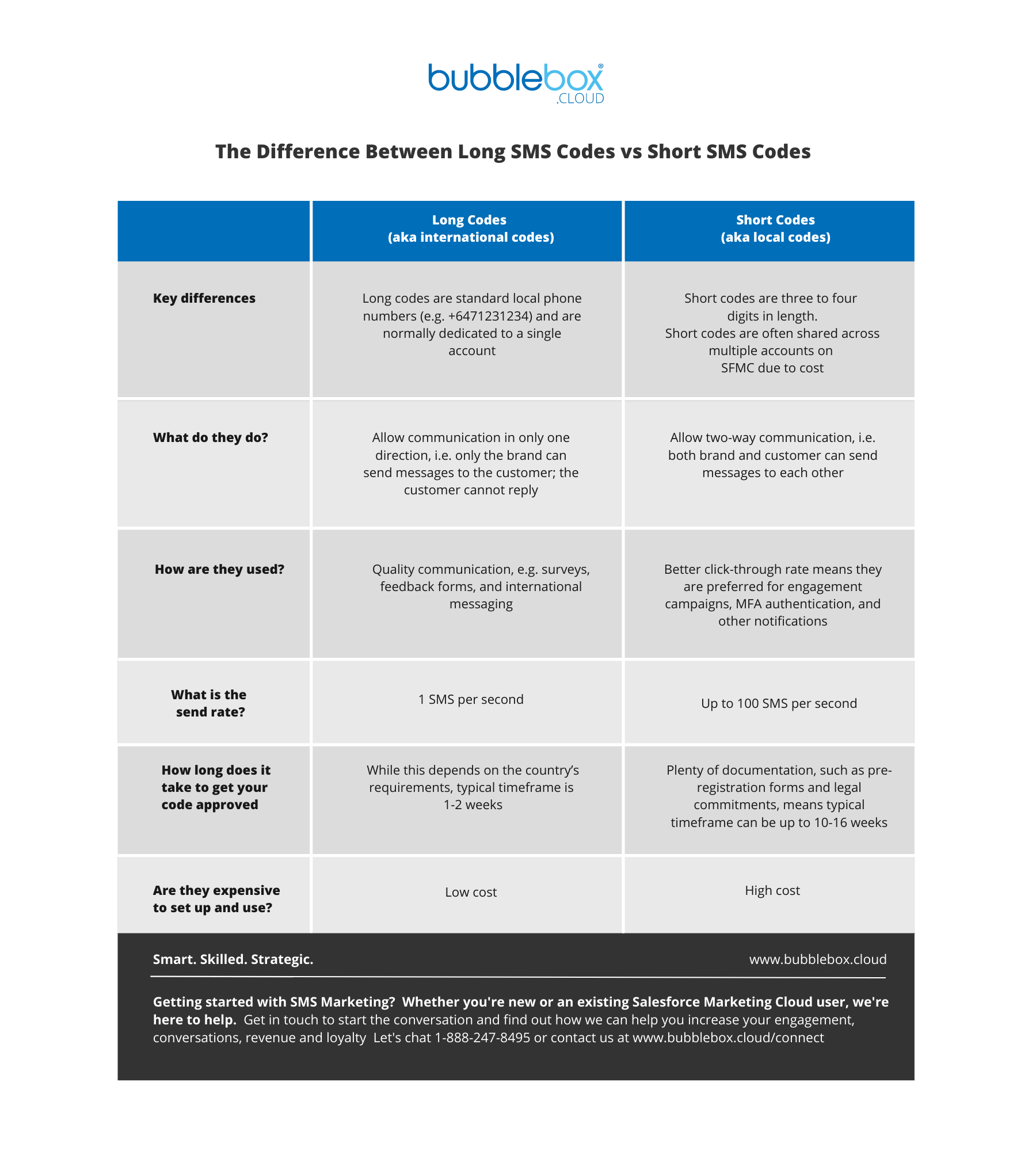 Click here to download the pdf
How to set up your SMS marketing campaign
Mobile strategy
Questions to consider include:
Purpose

What is the objective behind your messaging?

Are your SMS transactional (e.g. delivery notifications) or commercial (e.g. contests and sales promotions)?

What is needed to set up each type of campaign?

Value

How will SMS provide value to your audience/customer?

SMS tends to be more personal than other traditional communication channels; how will you leverage this connection to retain customer interest and loyalty?

How will your SMS messaging be different from your other channels?

Audience

Who specifically is your content for (i.e. who is the audience you are targeting)?

How will you attract more subscribers?

Are these subscribers connected to you via other channels?

Location

In which countries will you use SMS marketing today?

What about in the future?

If you have more than one brand, are the same customers subscribed to your other brands?

Keywords

What will subscribers text to opt-out of your messaging? Consider different opt-out keywords for your different brands to eliminate confusion

Frequency

How often are you sending messages out?

What is the ideal time to send them/when do your customers want to hear from you? (tracking traffic on your mobile site will provide information on when customers are most interested in your business)

Opt-ins/outs

Will you have a double-opt in your campaigns or single?

How will you keep track of opt-ins?

Preferences - where will your customers opt-in/opt-out be saved?

Where do customer replies to text messages go?

How will you segment customers by preferences?

What other compliance concerns could arise later on?
Different Types of SMS Opt-Ins
Type

Description

Example Use Case

Single opt-in

Customers send a specific keyword to the brand's short case in order to subscribe to receive messaging

Customer texts the keyword "BOOKS" to a retailer's short code in order to enter a giveaway for a bestseller. They have now subscribed to this specific messaging campaign, and MobileConnect sends them an automatic confirmation/welcome message.

Double opt-in

Customer texts a keyword to a brand's short code

Brand sends a response asking for confirmation

Customer texts a confirmation keyword and has now opted into the campaign

Customer texts the keyword "OFFERS" to receive discounts from a brand

MobileConnect sends an automatic response asking the customer to respond with "YES" to receive messages

Customer texts back "YES" and has now opted into the campaign

Age

validation

Similar to a double opt-in, the second message from the brand asks the customer to respond with their age. If the number is above a certain predefined threshold, the user is subscribed to the campaign

Customer texts the keyword "LUCKY" to enter a contest/lucky draw for an 18+ demographic

MobileConnect sends an automatic response asking the customer to respond with their age to join the contest

The customer texts their age number; if it is 18 or above, they are subscribed to the campaign. If below, they receive an automatic "Sorry!" message informing them that they are not eligible to enter
Tech Setup - Mobile Studio & MobileConnect
When choosing your technology platform, you must consider:
What functions are available within the platform?

How easily can it be integrated within your existing infrastructure?

Is it intuitive to use?
Experienced marketers know that within the Salesforce Marketing Cloud is Mobile Studio, which offers various functionalities to communicate with customers, such as Facebook Messenger, SMS and push notifications.
Today, we'll focus on MobileConnect, the module that allows marketers to create and send SMS campaigns via templates and a drag-and-drop interface. The module enables marketers to automate many of these tasks, such as replying and managing keywords!
MobileConnect is the preferred option to build campaigns for the 4 types of text messages below:
Transactional messages
Example: Order/appointment confirmations, scheduling appointments, and sending delivery tracking numbers

Commercial messages
Example: Product promotions, discounts, competitions, surveys

Security messages
Example: Password expiration reminder and MFA codes

Progressive profiling/data enrichment campaigns
Example: Allows the customer to share more preference information with you for marketing purposes

Apply with a mobile carrier
As different countries have different regulations, it is important to check with individual carrier requirements/capabilities in order to send content to their users. There are often challenges along the way, such as pre-registering opt-out keywords like "UNSUBSCRIBE" and sending automatic confirmations for opt-ins/outs.
Different rules with different mobile carriers

Can take up to 10- 16 weeks to get your short codes approved

Therefore you will have to plan up to a full sales quarter ahead of time
General SMS best practices:
Always obtain consent to send your customers messages first via opt-in campaigns via a preference center. Check out our guide to building preferences.

Be very clear about your messaging/campaign objectives to avoid being labelled as spam

Determine the "sweet spot" frequently of texting - too much and you'll overwhelm your customers, too few and they'll forget they signed up; make sure to communicate frequency to your customers and set expectations

If your campaign requires customers to respond, ensure you include data rates within your message

ALWAYS include an option for recipients to opt-out of the campaign

Offer an incentive to subscribe, eg. 10% off first order

Make certain content exclusive to your SMS list

Use custom fields to personalize your content

Track effectiveness in order to constantly update and improve your campaigns; opt-outs provide the best information on what type of content performs best vs. what customers do not want to see from you
Whether you're new or existing Salesforce users and need help with your Mobile Strategy, Mobile Connect and/or Marketing Cloud, we're here to help! Contact us.
--
See what other subscribers are reading:
---