By
Nancy Kwan - Director, Digital Marketing
-
Apple's recent iOS 15, macOS Monetery and Mail Privacy Protection settings announcement has sent the global marketing community into a frenzy.
Chances are you've heard the noise and the panic it is creating amongst many email marketers, or you wouldn't be here.
You've probably heard whispers of skewed subscriber data, affected KPIs, and whole-new email journeys, and you're not alone trying to understand all the fuss and the impact the new OS release has on your email marketing strategy.
If you're feeling the pressure and you're not sure why or what to do about it, we've got you covered — continue reading to understand what's going on and how you can adapt to the changes.
My take and viewpoint as the Director of Digital Marketing
Recently I spoke at a Bubblebox virtual event and addressed common questions about the impacts of email marketing strategies due to the recent Apple Mail Privacy Protection Release in September 2021.
Check out the video playback here.
Let's start with: What is Apple changing?
Apple has announced Mail Privacy Protection (MPP) for their Mail app on iOS 15, iPadOS 15, and macOS Monterey devices. As of September 20, 2021, MPP is available on iOS 15 and iPadOS 15 devices.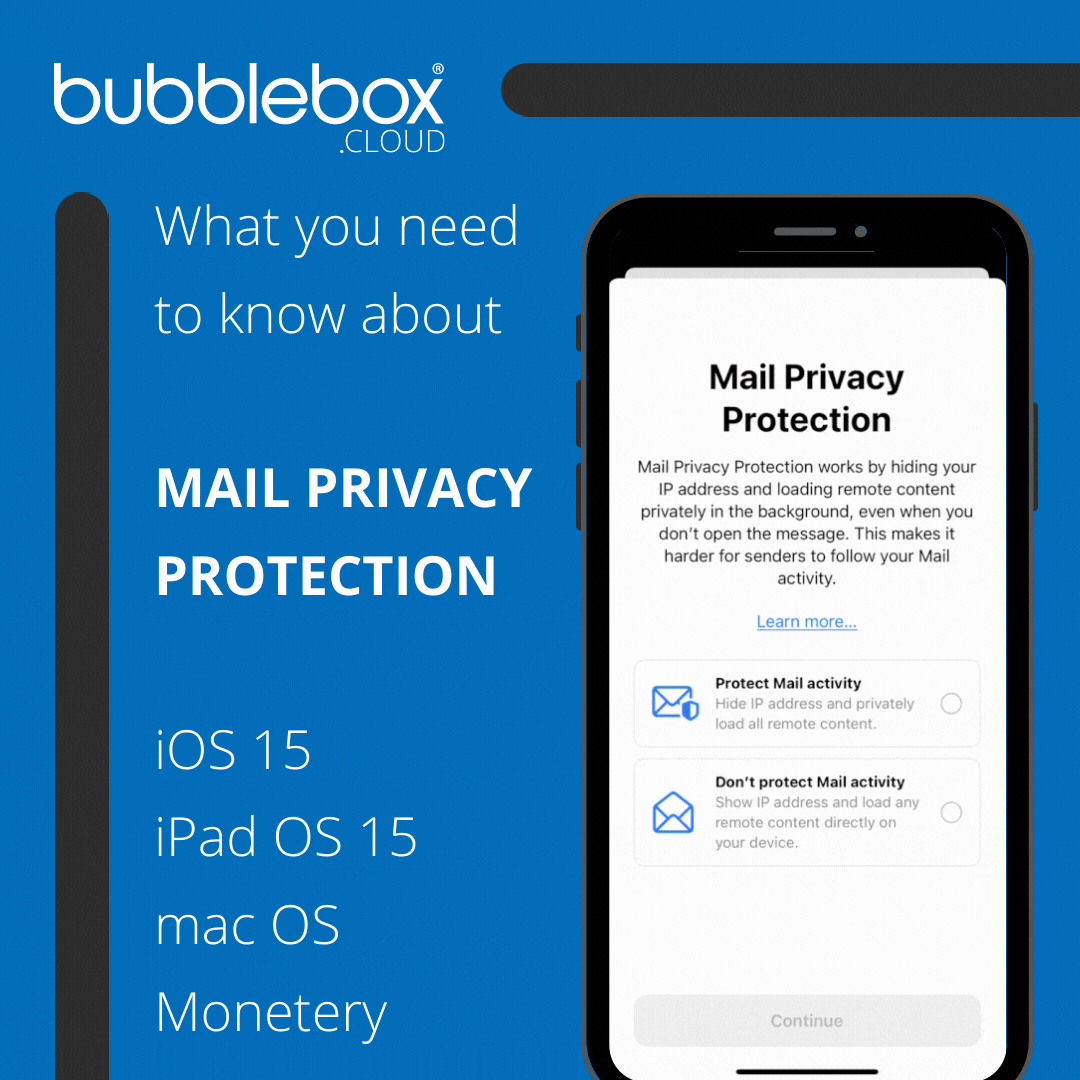 What does Mail Privacy Protection (MPP) do?
Hides IP addresses so that user's online activity cannot be traced back to them or their physical location

When enabled in Mail app, it preloads all email content (including the open tracking pixel) through a proxy server before making it available to the recipient

For marketers, this preload will appear as an "opened" email, even if the recipient has not opened the email

The "Open" data will be masked, meaning it is impossible to identify which Apple user opened the email, when, where, and if they even opened it themselves

What's the big deal?
Almost all emails sent to Apple Mail App will be automatically marked "Open", even if they haven't been opened

Apple iPhone (iOS Mail), Apple Mail (macOS Mail), and Apple iPad (iPadOS Mail) are the preferred email clients for nearly 50% of users in 2021, so this translates to a considerable share of email subscriber data impacted

Even if an Apple user had given you consent to email them when they subscribed to your content, the MPP overrides that and impacts your ability to provide targeted value to your readers

Bottom line: Your open rates for emails will be impacted because MPP can skew the open rate for Apple users by up to 75%

Which Apple users are impacted?
This affects all Apple users that open the Mail app on their device, regardless if they use it to check their email inbox or not. Whether users are using their iPhone or iPad (and soon their Macbooks), all open rates will be inflated for iOS 15 users who have Mail app running in the background. Current forecasts say nearly 90% of users will adopt iOS 15 within the first six months after the release.

What does this mean for me?
Since the Apple Mail app is preloading images in an email, even for emails that have not been opened, you will see false opens for all emails sent to recipients that use the Mail app

Simply put: You cannot rely on the open rate anymore

Okay, but what does that mean?
You will not be able to rely on open rates for:
Re-engagement campaigns

Subject line testing

Send time optimization

Open time personalization

Measuring email deliverability
For subscribers that use the Apple Mail App, you don't know if your subject lines are working, if you are sending emails at the right time of day and if your subscribers are even reading your content.

How does this impact my email marketing?
Targeting, Segmentation & Deliverability

You will no longer be able to accurately target campaigns or segment subscribers based on when the user last opened your email

False opens hide unengaged subscribers, so it will be difficult to clean your email list to optimize your email deliverability


A/B Testing

Any split test winners (e.g. for the most effective subject line) based on subscriber open rates are inaccurate now


Re-engagement Campaigns

Perhaps, you would trigger an automatic re-engagement campaign based on unopened emails

Now you do not know when an iOS 15 user does not open your email

If you have existing email journeys dependent on a subscribers' action of opening an email, revisit your automation and email journeys to determine whether you require creating a separate data extension targeting iOS 15 users due to the false opens.


Send Time Optimization

Since the new iOS 15 privacy setting hides the actual open date/time, you will not be able to rely on the default optimal send time


Personalization

Any content relying on location data, such as the nearest store to the subscriber, will not be accurate

Countdown timers for retail sales will not be accurate
I see why this is a big topic amongst email marketers… But what can I do?
Here's what we recommend:
Focus on Actionable Metrics

Don't get caught up in vanity metrics — such as open rates! Don't know where to start, check out our article to combat vanity vs actionable metrics.

Be proactive and put together a strategy that inspires users to take action based on effective email content (such as clicks and conversions)

Take a look at web traffic, click maps, and unsubscribe rates as an indicator of email marketing success


Segmentation

Separate your subscribers between those that use iOS 15/ macOS 15 and other operating systems; otherwise, your overall metrics will be skewed

Do not include iOS 15/ macOS 15 users when deciding optimal send times

Use the remaining non-Apple segment as a benchmark OR use pre-MPP data from Apple users as a benchmark
List cleaning

Use MPP data to clean your email list of invalid and undeliverable addresses

Apple will only show you "opens" for users that have the Mail App actively running on their devices, meaning you can conclude the subscriber email address is still valid.

This means you can still hold onto iOS 15 users when cleaning your email lists for better deliverability.

Remove all the disengaged non-openers.
Journey Triggers for Automated Emails

Revisit your re-Engagement and win back journey that relies on open rates

The basis for these journeys will have to adjust along with the criteria for how users are qualified to enter the flows.

Create new email journeys for iOS 15/ macOS 15 users and create a new data extension for this segment
A/B Test

A/B test the preferences of Apple users using other metrics (e.g. CTR and conversions)

Shift the focus away from subject lines and more towards the content inside your email, which drives the metrics that matter, i.e. clicks and conversions

Also, look at pre-MPP data for what worked and what didn't for Apple users


Personalization

Increase message and content personalization, such as using tags to include the subscriber's name in the subject line

When collecting subscriber data, ask for location-related information, such as ZIP codes, to help personalize content
In summary, look at your current automated journeys and activities for any paths that rely on the open rate and update them accordingly.
Looking forward
While there are currently no updates from Google and Microsoft regarding privacy updates, be prepared for the tech giants to follow suit. Adjust your automated journeys and best practices to shift the focus away from open rates overall and more towards the content inside your emails that drive clicks, conversions, and web traffic
Next Steps
Need help segmenting iOS / macOS users, from auditing your existing structure to data cleansing and segmentation to setting up the new automation and journeys in Salesforce Marketing Cloud?
Let us guide you. Email marketing isn't going anywhere - we're here to provide strategic recommendations that will help you evolve your email marketing strategy as the digital era continues to evolve. We'll help you optimize your Salesforce Marketing Cloud platform, including Email Studio, Subscriber Data Extensions, Automation Studio, Journey Builders, Dashboards, and Data Cleansing.
We're here to help. Contact Bubblebox today!
--
See what other subscribers are reading:
---