By
Nancy Kwan - Director, Digital Marketing
-
As a marketer, you've probably heard about Apple's Mail Privacy Protection rollout that began in September 2021.
While the global marketing community has begun to see some changes to marketing campaigns in the previous months, the full implications of this rollout are still not widely understood.
So today, we're here to answer the question: To what extent does it impact you and what can you do to adapt?
Before we begin: What is Apple's Mail Privacy Protection?
As of September 20, 2021, Apple has introduced a privacy update for iOS 15, iPadOS 15, and macOS Monterey devices called Mail Privacy Protection. The update, which users have to enable in their Mail app, allows them to mask their online activity and IP addresses so that they cannot be traced back to them or their physical location. They also rolled out a feature called Hide my Email that will have significant impacts on how businesses will engage and communicate with their prospects and customers.
What is the Hide my Email feature?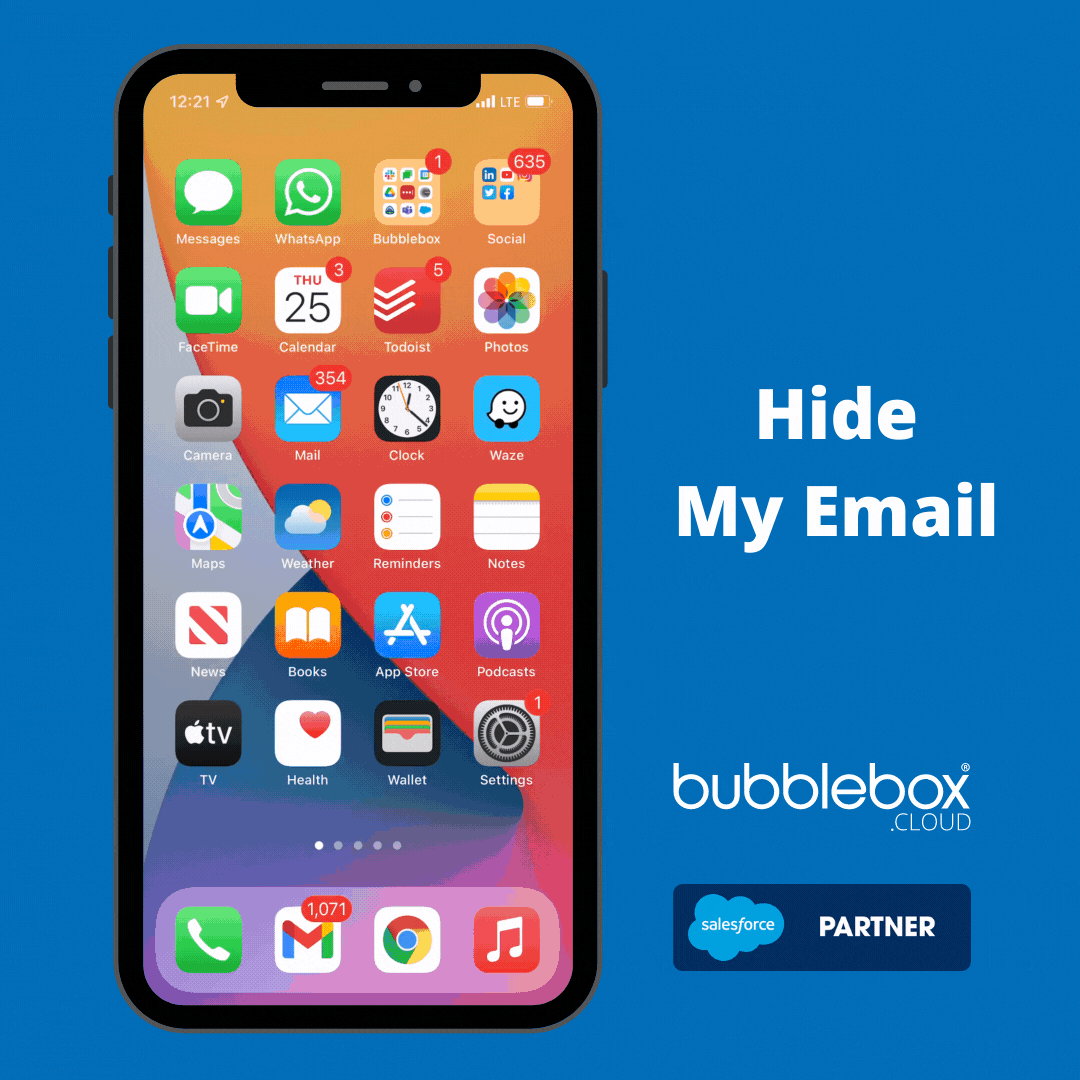 This feature allows users to keep their email addresses private in one of two ways:
Sign-in with Apple
Users can create an account with an automatically-generated random email address

Using iCloud+
Users can generate as many email addresses as needed on their device to use wherever they choose
The user can enable email forwarding from their randomly-generated email address to their real inbox; however, marketers will have no way of knowing if the user is even seeing their emails.
How does this affect marketing campaigns?
Once Mail Privacy Protection is enabled, the update preloads all email content, sending a false trigger to marketers that their campaigns were opened — even if they weren't.
While the "Hide my Email" feature will make it challenging for businesses to know all the exact subscriber/customer touchpoints and their level of engagement.
Why is this going to be a challenge for the entire organization and not just marketing?
Some businesses use the email address as the "unique identifier" to help differentiate between individual users and keep track of their preferences, and just as importantly, to determine where in the customer journey the user is and what the next best step would be. This goes beyond marketing; it affects how businesses guide their customers towards the end conversion goal. Without these unique identifiers, businesses will struggle to know who their customers are, what phase of the buying journey the customer is in and to define how to best engage their customers accordingly. If you're currently using email as the unique identifier, consider exploring an alternative value as your unique identifier moving forward.
Ultimately, businesses will no longer have access to valuable data, such as which individuals opened their emails, what time, where they are located, and if the user themselves actually opened the email. As a result, their marketers have begun to see skewed metrics, such as inflated open rates by up to 75%.

Higher open rates are a good thing, right?
In short: Not exactly. Marketers will no longer be able to personalize, optimize, and target content to the individual interests of the user using old methods. But this goes beyond marketing; the absence of crucial information about customer preferences impacts call centers, sales departments, and even the products and services themselves.
So, what does this mean for me?
Globally, Apple iPhone (iOS Mail), Apple Mail (macOS Mail), and Apple iPad (iPadOS Mail) are the preferred email clients for nearly 50% of users in 2021, so this translates to a considerable share of email subscriber data impacted.
Marketers can no longer rely on open rates or subject line testing to determine further messaging at the top end of the email marketing funnel. The results of subject line testing, send-time optimization, open personalization, and re-engagement campaigns will be skewed for Apple Mail app users.
What does this look like in a real-world scenario?
Financial Services
If you're at an insurance organization imagine the following scenario. You have a new policyholder and you have a campaign to onboard them onto your company's mobile app where they can interact with your organization, online chat, update their address, submit their insurance claim and check on the status and more. Imagine the disconnect to your campaign results if you are targeting john.smith@abccompany.com and that individual creates a hide my email account called mystery.007@hiding.com on your mobile app. If you're using email as your unique identifier, it will appear on your report that john.smith@abccompany.com did not sign up and you might indirectly put more efforts to re-engage or retarget the individual even though they have already logged on. Consider looking at alternative unique identifiers other than email in this case.
Retail or eCommerce
If you're in retail, imagine the following scenario. You have a loyal customer, they're signed up with an account profile and you've been successfully triggering cart abandonment emails to encourage them to come back to your online store front and purchase the product. Usually you've done well with converting your customers but all of a sudden you've seen a decrease in your conversion. Is the decreased due to the a lack of interest in the product or did they already make the purchase because they've logged in as a guest under a hidden email without your knowledge? Consider looking at alternative unique identifiers other than email in this case.
Starting to see the real business impact of these changes?
As a marketer, how can I begin to adjust?
Here are some questions to get you started:
What percentage of your subscribers use Apple?

What are your current email deliverability rates?

Which parts of your current customer journey rely on email identifiers?

Do you have any transactional emails that are triggered?
This is the time to assess your marketing funnel and conversion efforts. Once you have identified areas of improvement, you can begin to prioritize and optimize them and begin to test your changes.
Moving forward
Once you have considered the above, here are some important tips to keep in mind when formulating your action plan:
Focus on Actionable Metrics

Don't get caught up in vanity metrics — open rates are one of them!

Be proactive and put together a content strategy that engages your subscribers, i.e. put the focus on your CTR instead

Look into other valuable data points, such as web traffic, site heatmaps, and unsubscribe rates


Segmentation & List Cleaning

Separate your Apple subscribers from the rest of your subscriber base (e.g. Gmail, Outlook, Yahoo Mail users)

Analyze your pre-MPP update data and non-Apple subscribers to identify benchmarks for your actionable metrics

Check your email deliverability rate; how many emails are actually ending up in the inbox? Remove non-engaged subscribers from your mailing list

Connect with your CSRs to confirm and update email addresses while talking to customers


Journey Triggers for Automated Emails

Are your re-engagement campaigns currently triggered by the open rate? It's time to change it to your CTR

Shift your focus from A/B testing subject lines towards A/B testing content inside your email for engagement which goes back to the importance of having a content strategy


Trust & Privacy

Update your preference centers to allow subscribers to tell you more about the type of content they want to see from you

Go beyond asking for marketing opt-in to email and send SMS texts, ask questions to better understand the categories or the content your audience would like to receive

Explore the RFV model (Recency, Frequency, Volume)


Relationships via Relevant and Engaging Content

83% of consumers are willing to share data for more personalized experiences (Accenture)

76% of buyers expect more personalization and attention (DemandGen Report)

In summary, if people trust your brand and what you do with their data, they will be willing to share personalization info with you
The big picture
It's important to remember that these privacy updates are not a bad thing; they are a step in the right direction for users and brands to build better relationships based on trust. As Epsilon reports, 80% of customers are more likely to make a purchase from a brand that provides a personalized experience, and with the right strategy, you could see your sales revenue go up.
Next Steps?
Take the time to get everyone in your organization up to speed on the recent changes. If open rates have been a critical component of your reporting to management, it's time to move forward and start discussing what you need to prioritize, resource and plan to continue to succeed.
Take action by:
Running an apple audience report

Completing a health check assessment - Identify all customer touchpoints, impacts, and change required for you and what work is required to move forward

Prioritize and rollout change
Whether you're new or existing Salesforce users and need help to adapt to Apple's privacy changes, we're here to help! Contact us.
--
See what other subscribers are reading:
---