It's no secret that the past year has been an interesting one for marketers.
As the world became more virtual, marketers found both challenges and opportunities in connecting with their audiences. Brands sought out innovative ways to stand out amongst the digital crowd, increasing their usage of channels such as social media, live streaming, and email marketing. Some methods were successful; others, such as webinars, became overwhelming for customers as Zoom fatigue sank in and sessions eventually blended together until they were one big virtual blur.
Not surprisingly, email marketing remains one of the leading channels to reach prospects/customers and drive results. In fact, there is evidence that the pandemic actually grew email's prominence as a touchpoint between brands and their consumers. Here's the data:
A report by eMarketer forecasted that the total number of email users in the US would reach 277.7 million in 2024 — that's 81.2% of the US population

Globally, email users are projected to increase from 4.04 billion this year to 4.48 billion in 2024
Clearly, email marketing is where your audience is.
You already knew that — chances are you've run a few email campaigns of your own in the past year. You've even invested in Salesforce Marketing Cloud or other email marketing platforms to help you send out campaigns and support marketing activities.
But is your email marketing actually driving results?
How do you know — are you using the right numbers to measure success?
And how can you optimize your email marketing to grow your organization and bring in more revenue?
How to Measure the Effectiveness of Your Email Marketing Campaigns
Congratulations, you've successfully migrated your email marketing templates from your previous email marketing platform to Salesforce Marketing Cloud.
Now what?
Here are a few questions to ask yourself:
Do you know how well your email marketing campaigns are performing?

How engaged are your subscribers?

How can you increase your engagement with your subscribers?

When was the last time you've cleaned your email list?

How can you improve your numbers, such as email deliverability, open rates, and CTR (Click-Through Rate)?
Where Do I Start?
Review your email send results in Marketing Cloud and determine whether the numbers are aligned to industry email benchmarks
For example, if you're in the financial services industry (where the open rate benchmark is 24.8%) and your open rate is 28%, congratulations — your subject line successfully caught the interest of your subscribers!

If you're in retail and your CTR is less than 1.1%, you have now identified an area of improvement

Check out this great infographic from Salesforce on how you should track your email sends.

How Do I Improve?
Example #1: Bounce Rate
Say your bounce rate is 28.91%. Email best practices dictate that anything higher than 2% requires immediate action, so clearly you need to improve your email deliverability. It's time for an email data cleanse!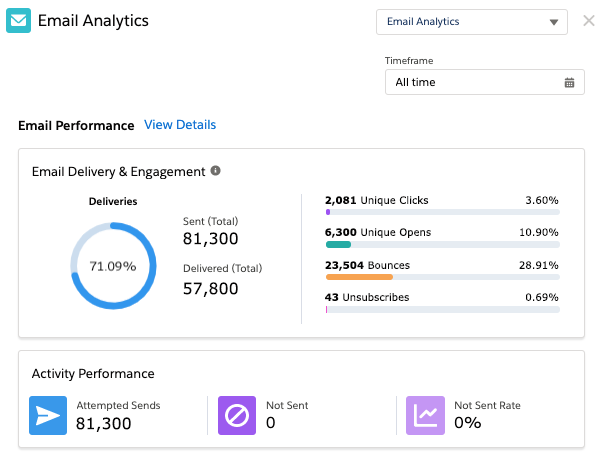 Here's how:
Proactively remove your bounced addresses before your next send

Though the application automatically holds undeliverable emails after the third bounce, a bounce rate over 20% can dramatically harm your deliverability and ISP (Internet Service Provider) reputation
Example #2: Open Rates and CTR
Now, let's say you're in financial services and your open rate is 15%. That's way below the 24.8% industry benchmark. Or suppose your open rate is 55%, which is great until you notice your CTR is only 2%. So how do you improve these numbers and reach more of your audience while leveraging the features in Marketing Cloud?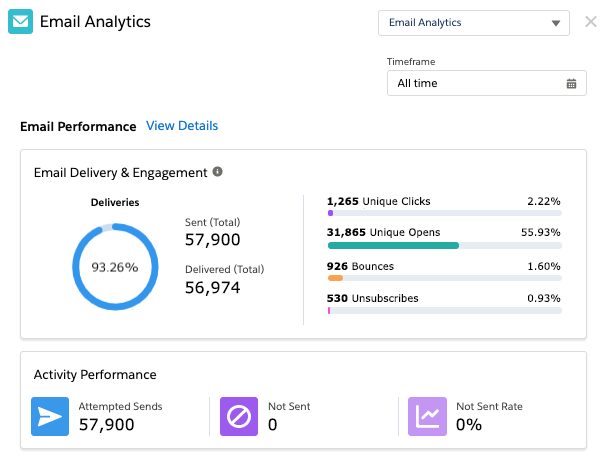 Here are a few things for you to try:
Resend unopened emails at a different date and time

Conduct A/B tests on the subject line

Segment or re-segment your email lists

Personalize your email campaigns

Cut spammy language

Ensure recipients' interest — be aware of your anti-spam law. In Canada, refer to Canada's Anti-Spam Legislation and in the US, CAN-SPAM
How to Improve the Overall Effectiveness of Your Email Marketing Campaigns
Use better content

Increase personalization

Try a different email design

Segment your email list

Implement an automated or last action-based email trigger
After you've given the above some thought, it's time to identify opportunities based on the data and tweak your strategy accordingly. And remember, don't be afraid to test!
Next Steps
You've reviewed your email results and come up with a list of tests you want to run.
Not sure how to set up these new tests without manually deploying A/B tests, data cleansing, setting up new email journeys, and tracking results to influence future decisions and remove the human error?
Let us guide you — we'll provide strategic recommendations to solve your manual processes and leverage features in Salesforce Marketing Cloud that you may already have access to but haven't leveraged to date, including Automation Studio, Journey Builders, Journey Dashboards, Data Cleansing, Content Builder, and Path Optimization (to list a few).
We're here to help. Contact Bubblebox today!
See what other subscribers are reading:
---