Salesforce Marketing Cloud has a rich history of helping companies to authentically engage with their customers or clients. Some may remember the ExactTarget platform; Marketing Cloud is the renamed/rebranded ExactTarget platform. Salesforce purchased ExactTarget in 2014 and initially rebranded it to Salesforce ExactTarget Marketing Cloud. Soon after, it dropped the ExactTarget name so that this platform would align with the other Salesforce Clouds.
The Bubblebox team has indepth experience with Marketing Cloud and ExactTarget, working under both brand names since 2012.
In our extensive work with customers who have decided to strategically implement Marketing Cloud, we know that, initially, it can be challenging to fully understand what Salesforce Marketing Cloud is and what it can do for your business. It can feel overwhelming – especially if this is your initial step into the seemingly complex world of email and online marketing. No worries – the team at Bubblebox is here to help you to understand the value of Salesforce Marketing Cloud and how you can use it to increase customer engagement, identify opportunities and potential customer dissatisfaction (and manage it!), and to increase sales – no matter what industry you are in.
At the heart of it, Salesforce Marketing Cloud allows you to create an integrated customer journey that engages your customer in a personalized way that builds a relationship, inspires brand loyalty, and drives sales where the customer feels empowered, connected and involved.
Marketing Cloud is a family of products, with seven strong elements that allow you to connect and engage with your customers through a range of interactive tools: email, mobile messaging, digital advertising, web content and social media. These are:
Email Studio
Mobile Studio
Web Studio
Social Studio
Advertising Studio
Salesforce DMP
Data Studio
Salesforce Marketing Cloud is especially effective in the wired, socially networked world in which we all live, work, play, talk and shop. This is where customers expect you to engage with them.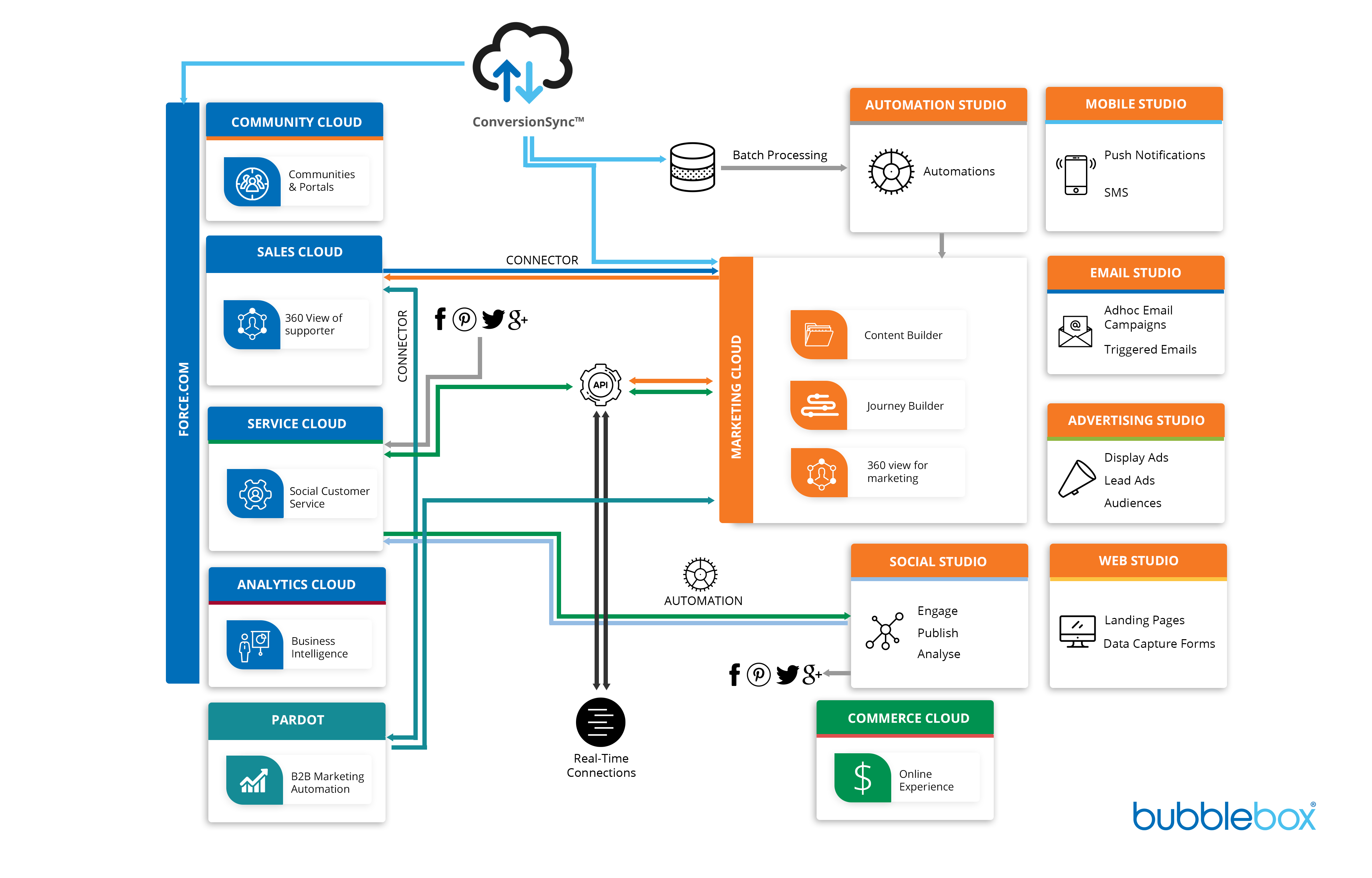 To better understand the value of Salesforce Marketing Cloud to your business, please check out the points below:
Why a Customer's Journey Matters
Listening Is a Valuable Sales Tool
Deeper, More Meaningful Engagement
Reach Your Customer with the Right Message at the Right Time
See Immediate Response and Results
Why a Customer's Journey Matters
Customers in every industry – and particularly in retail, finance, travel and entertainment – are more sophisticated than ever before. It is important to engage with them in a way that is customized, personal and reflects their expectation of your brand. The customer journey is specific to the individual – it should reflect their mindset, interests and engagement with your brand to date. The ability to create a connection with the customer and understand what they require at that time builds a trust relationship between you and drives them to action.
Listening Is a Valuable Sales Tool
Salesforce Marketing Cloud allows you to truly hear what your customer likes and doesn't like about your brand, products and services. Because Marketing Cloud provides you with a range of online options to engage, you get in-depth knowledge of your customer's behaviour. This allows you to connect with them in ways that appeal to their interests, beliefs and lifestyle.
Deeper, More Meaningful Engagement
Salesforce Marketing Cloud provides the ability to create seamless and meaningful interactions between your brand and your individual customers. This is because it unites customer data with customer behaviour – creating interactions that respond to and anticipate the specific needs of the individual customer. Everyone wants to feel like someone somewhere "gets them" – and that includes our favourite brands.
Reach Your Customer with the Right Message at the Right Time
Marketing Cloud allows you to strategically reach each of your customers with the right message at the right time – and because it feels personal to them, it resonates on a deeper level. When you have mapped out a customer journey that appeals to your customer, you know when to reach out with an offer or a special, and when to showcase new products or services. The right message at the right time is a powerful marketing approach that drives the customer to action and creates results.
See Immediate Response and Results
Marketing Cloud gives you real-time results – and allows you to respond quickly to customer interests, complaints or social media mentions. It provides valuable insight into the behaviour of your customer, which means you can respond to their interests, needs and aspirations.
Want to know more? What do you want to know about Salesforce Marketing Cloud? Are there elements that you would like to learn more about?
Contact Bubblebox today to see how we can help you to develop and implement a strategic email marketing campaign. Connect with us here.
---