Use marketing funnels to strengthen your marketing strategies and increase growth revenue
How many times have you come across this scenario:
Your executive walks by you or maybe you're sitting in a meeting, and the executive leaders begin to rapidly fire questions
Can we do more with less? Less budget? Fewer people? Less time?

How has marketing contributed to the bottom line?

How many sales were driven by marketing?

What's the return on investment?
Stressful?
It doesn't have to be. In this article, I'm going to walk you through how you could have answers readily at hand with data to back it up, use facts to tell your story and get executive buy-in on the next step to grow your business.
Let's start
As marketers, we're accountable to create marketing strategies that can be executed and modified based on results and data analytics but how do you know if your marketing strategies are effectively producing sales and delivering on a return on investments (ROI)?
Easy.
Introducing the concept of the marketing funnel.
Marketing funnels are an effective tool to help you visualize the steps your potential customers take from first finding out about your brand to converting into a customer.
The funnel provides useful data insights into why some customers convert to the next step and why some don't. The results enable marketers to make smarter business decisions that lead to revenue growth. You'll need to work with your business to determine what actionable metric will help drive success.
Key tip: Ensure that each metric being measured is assigned to an owner. The owner of the metric is responsible and accountable to actioning on the results whether it be identifying and implementing solutions to improve and make optimizations during this stage of the customer journey.
One thing to keep in mind is to know that your marketing funnel can evolve over time, but the main concept remains the same. Marketing funnels are nonlinear, and agile models that can adapt to digital technology changes, advances in data analytics, and fluctuations in consumer buying habits, behaviours and changes in the environment.
Don't get too hung up on the actual shape of the funnel, and envision it to include loopbacks and re-entries.
For the purpose of this article, I'm going to use the concept of a six steps marketing funnel, followed by a three-step reverse funnel which ties back to your retention, loyalty and advocacy steps. By the end of this, you're going to be an expert at marketing funnels.
Here is a visual that you could use as a guide to define your marketing funnel and the different types of marketing initiatives that best align with each phase.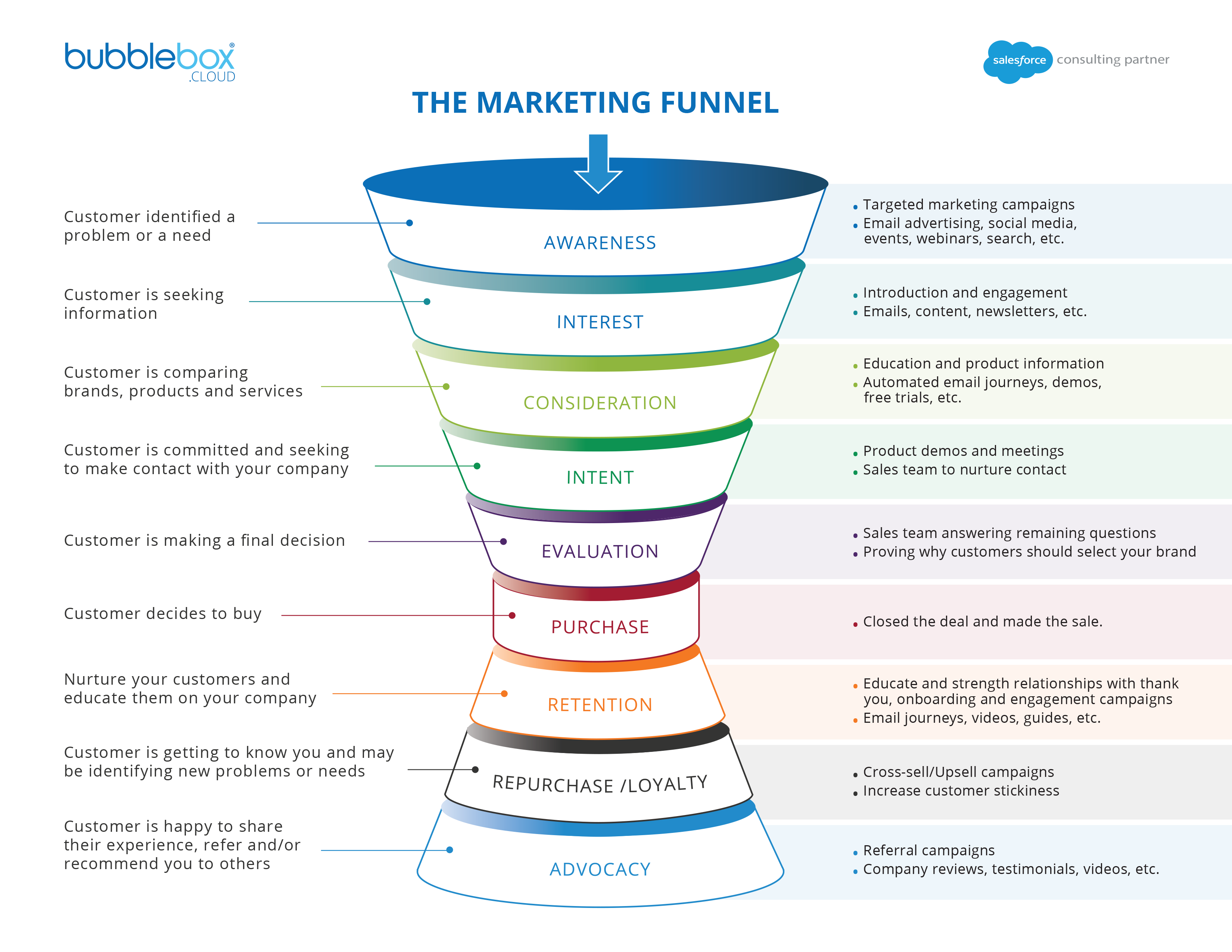 Tip: Before you start spending your marketing dollars, and blindly shooting a dart to the bullseye. Map out your marketing funnel that's relevant to your customers before jumping into the development of your marketing strategies, deploying campaigns, and spending all your budget to only find out that you're not converting any sales.

Keep in mind that your marketing funnel and number of steps can vary from industries and companies and do not have to be static. As you learn more about your customers, adjust your funnel, test out various initiatives and determine whether the change has increased your conversion.

What are the benefits of marketing funnels?
Fine-tune and enhance marketing strategies that will convert to revenue
Enable you to focus on what matters the most at each step

Powerful to marketing teams that use marketing technology and marketing automation tools to analyze the impact of marketing efforts along the funnel and adjust them when necessary.

Identifying touchpoints are the biggest influencers or detractors, so you can make adjustments and apply tools such as A/B testing to fine-tune content and messaging.
Continuously Improve the Customer Experience
Helps you understand how prospects and customers interact with your organization

With insight into buyers as they go through the funnel, you learn about their pain points, where they leave your funnel and are lost to competition, and identify new ways to address them.

Identifies enhancements and opportunities in the customer buyer journey, leading to higher conversion rate

Customers expect brands to know and understand them.
Generate more revenue
Strengthens the relationship with potential customers

Enhancing the buying process at every step of the funnel and continuously close the gap

Enables opportunities to easily nurture, retain and create stickiness with your customers via upsell/cross-sell opportunities.

Provide your customers with a positive experience, increase their loyalty and convert them to become your brand advocators
If you're only focusing on top-loading the marketing funnel when customers aren't converting through each step and you're not looking to optimize and understand the "why", it will only lead to potential brand damage, negative customer experience and loss of revenue.
Steps of the marketing funnel
Keep in mind that each marketing funnel is not one and the same nor are the key metrics that you may use to help influence the business decision. Spend some time to determine what is relevant for your organization and know that as you grow your business, it may evolve and change.
1. Awareness (Top of the funnel)
This step is where your prospects identify a need or potential problem.

They may figure out why they might need to resolve the problem. (Heck they might not even know that they have a problem yet; your data based on look-a-like customers is already pointing to their behaviour and next action before they even know it).

Your marketing campaigns generate demand and make potential customers aware of your brand and your solution to a problem or need.

Key Metric: Lead conversion rate
2. Interest (Top of the funnel)
At this step, your prospects are seeking information.

They're probably going to Google or a search engine to seek information. We all do it.

Understand what solutions are available. What are others saying and/or identifying whether the issue they thought was the core issue, really the issue or is it something else.

Your role here is to create a relationship with your prospect.

Position your products, services and brand, that would resolve their issue and apply marketing tactics that make them want to learn more

Key metric: Marketing qualified lead conversion rate / Lead scoring and conversion
3. Consideration (Middle of the Funnel)
Here your prospects are evaluating their options.

They're comparing brands, products and services and determining which one will fit their needs or resolve their issue.

From a customer experience perspective, this is a great time to demonstrate that your company truly knows your audience and understands their specific and personalized journey.

Key metric: Sales qualified lead conversion rate or conversion of retail site visitors with products in their cart.
4. Intent (Middle of the Funnel)
At this step, your prospect is committed. They know they want to buy and are mostly more receptive to engaging or making contact with you or your sales team.

This is the time where marketing focuses on delivering personalized content that best fits buyers that are most likely to convert.

If you have a sales team, this is where they're reaching out, building trust, confidence and establishing relationships that you are the brand to meet your needs.

Key metrics: Conversion of lead to Opportunities or conversion from online cart to purchase details
5. Evaluation (Bottom of the Funnel)
You're in the home stretch.

Your prospect is close to making a final decision to buy but not quite. Don't jump the gun.

Buyers are probably comparing your product or service to your closest competitors.

Besides the relationship-building and hand-holding sales efforts, the sales and marketing teams are both working hard to answer any remaining questions or defusing any potential doubts.

Key Metrics: Number of proposals or quotes completed or conversion of quotes to contract stage or conversion from purchase details to final review before purchase stage.
6. Purchase (Bottom of the Funnel)
This is the last step where your prospects decide to buy and become your customers.

The sales team will handle the purchase transaction.

Online consumer sales typically don't involve a sales team but you could still interact with a brand representative via an online chat or call center.

Key metrics: Closing Rate / Revenue / Average purchase value
Congratulations! A lot of blood, sweat and potential tears have gotten you to gaining more customers but it's all worth it in the end. Remember to take the time to celebrate your small successes, reflect on what worked and what didn't work.
Don't stop there
You probably noticed the reverse funnel I squeaked into the bottom of the Marketing Funnel picture. Remember that it takes a lot of resources, time and money to acquire one new customer. Now that you have them, don't lose sight of your new customers and make sure you are building a nurturing journey to strengthen the relationship and convert them to become your brand advocates.
7. Retention
At this stage your new customers are still getting cozy with you.

Loyalty hasn't been established and this is the point where you need to work even harder.

Continue to educate and strengthen your relationship.

You can even start off with a simple Thank you and Welcome Campaign to help your customers become familiar with your brand, other products and services that they've yet to discover and give them an onboarding experience that they won't forget.

Key metrics: Retention Rate / Engagement Rates / Customer Lifetime Value
8. Repurchase
This is where your customers had a good to great experience based on their initial purchase.

Their needs were satisfied and now they've begun to realize that they have other needs or problems to solve.

Your customers are familiar with your brand and is the opportunity for the marketing and sales team to upsell/cross-sell to different product lines.

Key metrics: Number of products sold to one customers
9. Advocacy
A seamless and positive customer experience will not only repurchase

They are more likely to share their experience, recommend and referral you to others.

Pay attention to your advocators and reward them for their referrals as they're helping you fill the top of the funnel at the awareness stage and establish trust more quickly via word of mouth.

Key metrics: Net promoter scores or number of referrals
Now what?
You have your marketing funnel established. Now it's time to start deployment and activating your campaigns and marketing strategies. The fun part now is establishing your benchmarks and tracking real-time funnel reporting so you can focus your resources, time and budgets on the areas that are making you money.
As you deploy your marketing campaigns, pay close attention to your targets/KPIs and become familiar with how your customers are going through each step of the journey.
Example:
Let's look ABC Loan Company's funnel below.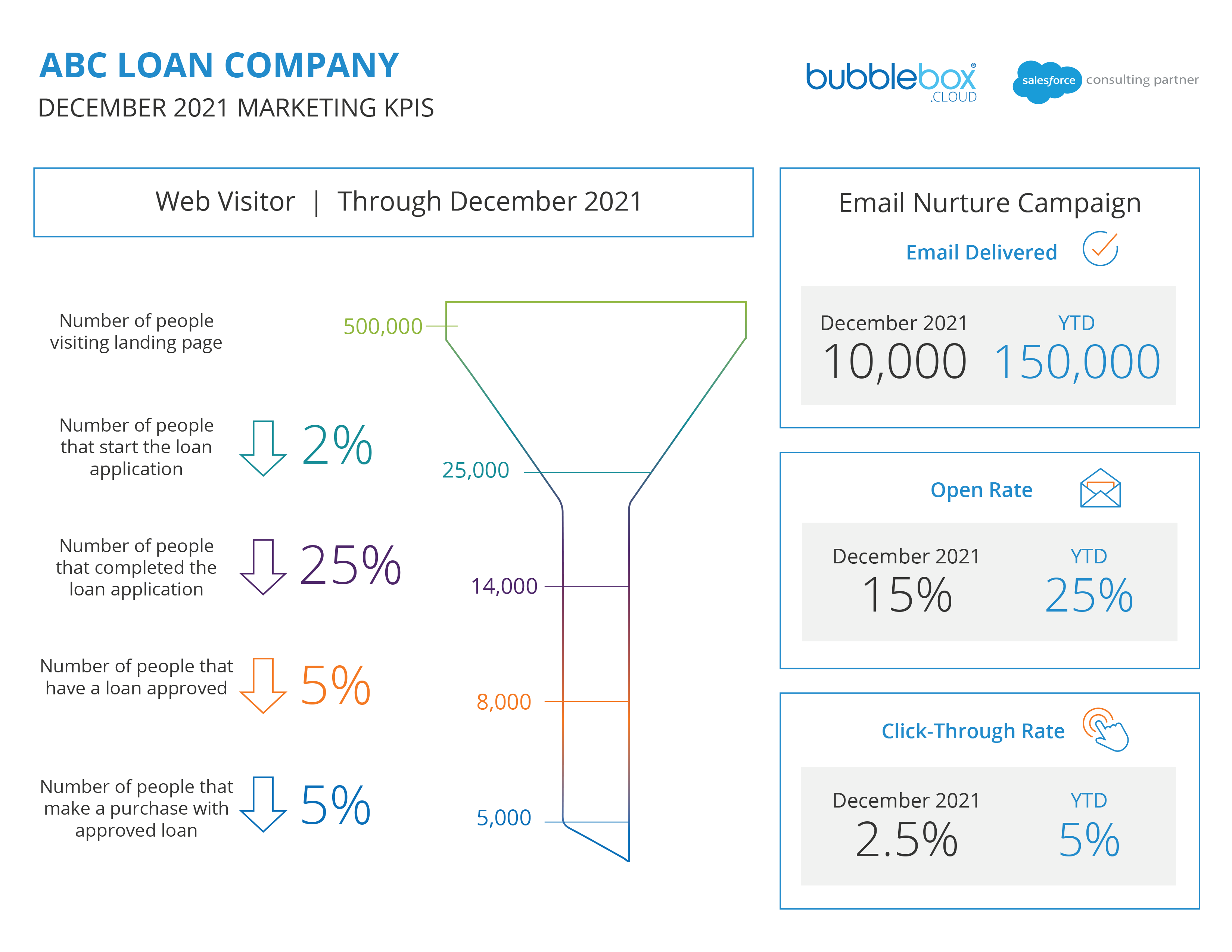 You'll notice when we are measuring month over month, we see a significant decrease in conversion by 25% between steps 2 to 3.

Spend some time to uncover "why" and identify areas of opportunities.

Make the decision to stop doing things that aren't working, fix or enhance and test.
If you're noticing that you're seeing a spike, it's time to dig in and better understand the "why". Ensure you're educating and understanding the reason so you can do more of it/less of it or reallocate your budgets, time and resources to the areas that are driving you more revenue vs less.
Conclusion
Defining your marketing funnel

Align your marketing funnel to your marketing strategies

Communicate and share your marketing funnel and marketing strategies with your leaders and business partners

The key is to effectively and efficiently guide customers through your funnel to the purchase step.

Real-time reporting to answer any questions from your executives

Now go start driving more sales, boosting ROI and identifying quick wins to optimize and enhance your marketing strategies.
Call out: Modern marketing funnels are not static. They are ever-changing, being refined and changed to meet the needs of the customers and their ever-changing needs and environment.
Next step:
If you're tracking your metrics manually in a spreadsheet, you're likely slowing the process down and creating room for human error. This is not sustainable and can take weeks or months to run the numbers, impacting the speed for you to make a decision when you quickly need to.
Let us guide you — we'll provide strategic recommendations to solve your manual processes and gain faster insights, empowering you to make business decisions faster and help make you look like a rockstar faster via data analytics platforms, such as Salesforce Datorama and Tableau.
We're here to help. Contact Bubblebox today!
See what other subscribers are reading:
---