By
Nancy Kwan - Director, Digital Marketing featuring Lisa Tarr, VP Marketing & Communications at Pet Paradise Resort
-
Just 18 months ago, the world was panic-buying everything from hand sanitizer to toilet paper.
Schools closed. Flights were cancelled. Businesses switched to WFH. More people adopted pets. Online shopping boomed. The term "Zoom Fatigue" became popular, as did "Revenge Travel."
Every week brought something new.
COVID-19 forced marketers everywhere to adapt to the needs of their customers at a time when customer needs were changing so often; marketers were getting whiplash just trying to keep up.
As a marketer, you probably heard the word "Pivot" more frequently, often thrown around as an empty buzzword. In today's article, we're going to talk more about what pivoting is and how you can make a business case to support your pivot strategy, using an example from one of our own clients, Pet Paradise, who was able to pivot during the pandemic successfully.
What is pivoting?
Shifting your strategy to better serve your customers and convey the value

Often done within existing resources

It aims to improve revenue or increase chances of survival in the market
When should I pivot?
Crucial for marketers to recognize the signs and adapt for the business to survive and thrive

A few situations to consider pivoting in:

Sales revenue isn't growing, no matter how much energy you put into it

Your competitors always seem to be ahead

Only one part of your business (e.g. one product) is succeeding

The market isn't responding favourably to your business

The market is suddenly changing, and your messaging is no longer relevant (think COVID-19 and changing consumer behaviour)

The business vision, mission, finances, or goals have changed
How Pet Paradise pivoted to drive growth and improve customer experience featuring Lisa Tarr, VP Marketing & Communications
To watch the full webinar with Nancy Kwan & Lisa Tarr, check out the Bubblebox YouTube Channel
Recently, I had the opportunity to speak with Lisa Tarr - VP, Marketing and Communications at Pet Paradise Resorts and Bubblebox customer. Lisa had the opportunity to reevaluate her existing strategy and noted that Pet Paradise's consumer behaviours had changed rapidly. When I asked Lisa, "What was happening at Pet Paradise during the onset of the pandemic and how was this change causing disruption to their business." Lisa shared that their:
Customers, typically and physically, came into their resorts to view the facilities and to speak to a representative to make a reservation

The existing online reservation process was slow, and most customers preferred to speak to a person for booking support

With stay-at-home mandates, not only could Pet Paradise no longer offer tours, but it was also difficult to staff call centers
Recognizing that customers were very connected to their mobile phones, the team decided to meet their customers online and implement a chatbot for online support using Salesforce Service Cloud.
With this strategic business decision, Pet Paradise had a new goal to work towards.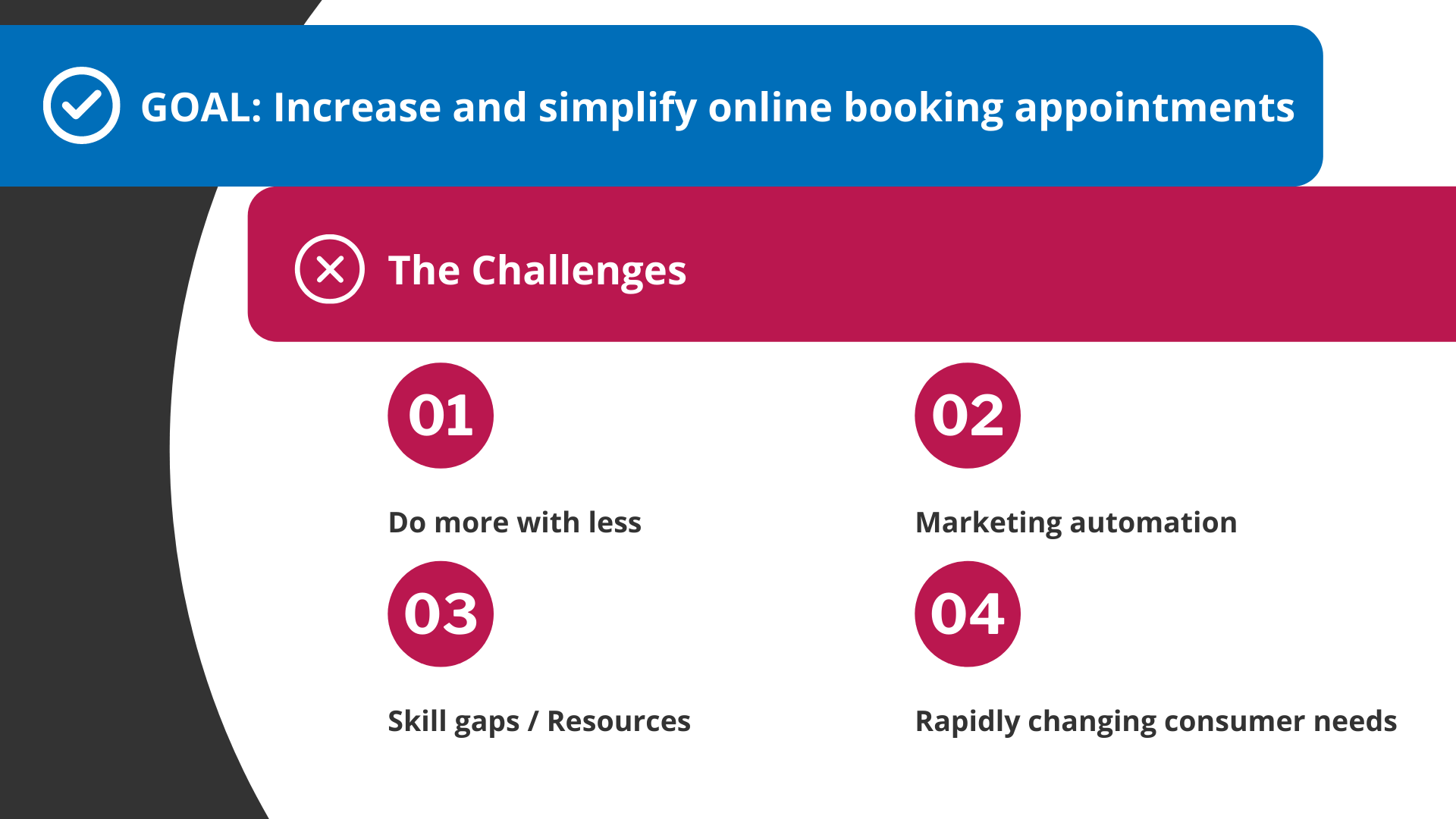 Though pivoting doesn't mean that it doesn't come with challenges. Pet Paradise recognize that they need to address the following gaps:
Downward pressure to do more with less

Marketing automation

Skills and resource gaps

Rapidly changing consumer needs
To expedite the ability to adapt and pivot to a new strategy, Lisa leverage existing resources and technology to move forward, the Pet Paradise team:
Identified that 35% of customer calls were questions unrelated to bookings, e.g. pet vaccinations, sanitation, and operating hours, and used this data to teach the chatbot

Used NPS surveys to identify gaps in their system offering and improve

Leveraged marketing automation as much as possible for faster rollout
The business case for chatbots
As marketers, we often have to ask, "How can I prove the ROI of implementing new technology?"
The case tends to lean in the opposite direction — how can you decrease your operating costs?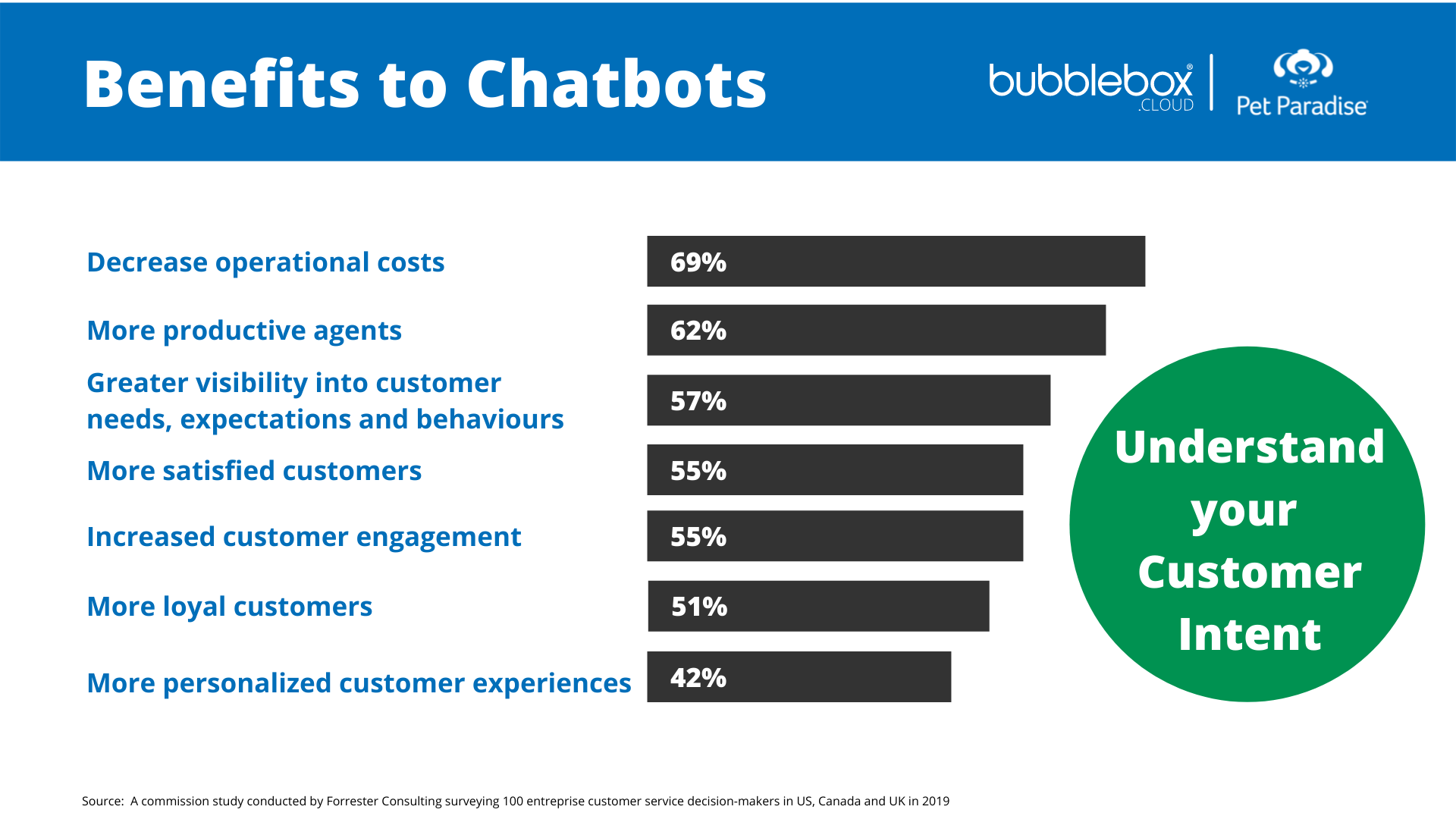 Take Pet Paradise, for example:
Uncertainty around COVID led to a spike in inbound calls from panicked customers who just wanted to talk to another person and know how they were going to be impacted during COVID-19

Increased call volume combined with low staffing led to increased wait times due to new safety protocols that were put in to place to protect the staff and customers

Customers could grow frustrated waiting in the call queue

Call abandonment rates went up as more customers dropped off

This translates into lost business opportunities
And 35% of these calls were non-complex and simple questions about pet vaccinations, sanitation, and operating hours..
Many call centers are measured by some or all of the above KPIs. Agents lost 35% of their productivity in answering questions that were unrelated to reservations — all time that could have been spent supporting customers with more complex cases,
Implementing a chatbot frees agents to help the customers who really need it while addressing questions from customers looking for simple information.
Simply put: Free up your agents to win more clients and let the tech do the rest.
Best practices for gaining executive buy-in
When presenting your business case to pivot your marketing strategies, identify the KPIs involved and answer two questions:

"How does this increase revenue and add value?"

"How does this align with our core values?"

Always bring the conversation back to how the implementation will impact ROI

Before asking for a bigger budget, ask yourself, "Am I spending my existing budget efficiently?"
Your pivot strategy doesn't stop there
Pet Paradise enabled customers to make an online reservation seamlessly, but they weren't done. The team dove back into the data to analyze existing customer behaviour, and found that the most common service booked was boarding with add-on services, such as pet baths.
To further reduce the volume to the call center, the team optimized the chatbot to offer a low-effort way for existing customers to make these reservations:
Customer enters email address

System pulls up their pets

Customer goes through quick process of choosing locations and dates using Service Cloud

The booking is done!
In order to succeed, this system should not work in isolation. The cross-sell opportunities with chatbot data are limitless:
Sales Cloud will identify leads for customer interaction and further discovery with an agent
Example: Upsell other services of potential interest using chatbot interactions
Marketing Cloud will engage existing customers and nurture leads
Example: If a potential customer entered a location in the chat that will open in a few months, leverage Marketing Cloud to send that customer an invite when the location of interest is finally open
What are the benefits when working with a Salesforce Partner?
An external partner brings expertise from working with other clients in the industry to address your specific challenge

Leverage an external perspective to create a holistic strategy around your technology

Your partner is someone to bounce ideas off of — they're just as excited as you are!
"Historically, we've worked with different partners, great tech companies, and it's rare to have a tech company that gets strategy. Bubblebox is in a whole different bucket. I have a team at Bubblebox. When we went to them about the chatbot they were on board and excited. And when you have somebody in your space that's supporting you that you can constantly ask questions, and be able to ask, "Hey, what do you think?" It gives you whole different leverage, because you have two teams on your side. And it is just such a benefit. I can't stress the importance of tech is one thing, but tech with strategy is a whole other thing, because it really gets you to how this is going to impact my business and bring value to the organization." - Lisa Tarr, VP Marketing & Communications at Pet Paradise
Need help?
Are you a new or existing Salesforce user and need help setting up your own chatbot? Contact us and find out how we can help improve customer experience and reduce operational costs with your own chatbot.
--
See what other subscribers are reading:
--
Sources:
https://blog.hubspot.com/sales/pivot-startup
https://fi.co/insight/what-pivoting-is-when-to-pivot-and-how-to-pivot-effectively
---