By
Nancy Kwan - Director, Digital Marketing
-
According to Salesforce's Digital Skills Index research,
76 percent of business leaders believe their company has a moderate to the significant digital skill gap.1

nearly three out of four people believe they lack the resources to learn the digital skills required to succeed.2

A majority of senior leadership respondents (54%) said they are prepared with the digital skills necessary now. Yet, less than half of managers and individual contributors agree, signalling a disconnect within organizations.
We've all heard about the digital skill gap. But what is it, and what is your company doing to close the gap?
In a nutshell, the digital skill gap is the disparity between the skills people have and the skills employers need. As our economy moves more and more towards digitalization, that gap will only get wider. So if you're looking to stay ahead of the curve, it's essential to make sure your skills and your employees' skills are up to date. Luckily, there are plenty of ways to do that.
First, what are examples of digital skills?
Entry-level digital skills can include:
Computer literacy

Data entry

Social media

Web-based communications and research

Word processing

Email and chat
Advanced digital skills can include:
Programming, web, and app development

Digital business analysis

Digital marketing and content creation

Digital design and data visualization

Digital product management

Data Science

User experience design
Digital transformation is rapidly changing the skills we require to succeed in the digital age. As you focus on understanding the skill gaps in your organization, take the time to think about the functions and the roles required as your organization continues to grow and adapt in the digital world. Think about the now and also think about the future.
The impact on your bottom line
In a recent report on accelerating skills acquisition, Accenture stated: "If skill-building doesn't catch up with the rate of technological progress, the G20 economies could lose up to $11.5 trillion in cumulative GDP growth in the next 10 years. That's equivalent to losing more than an entire percentage point from the average annual growth rate every year over that period."3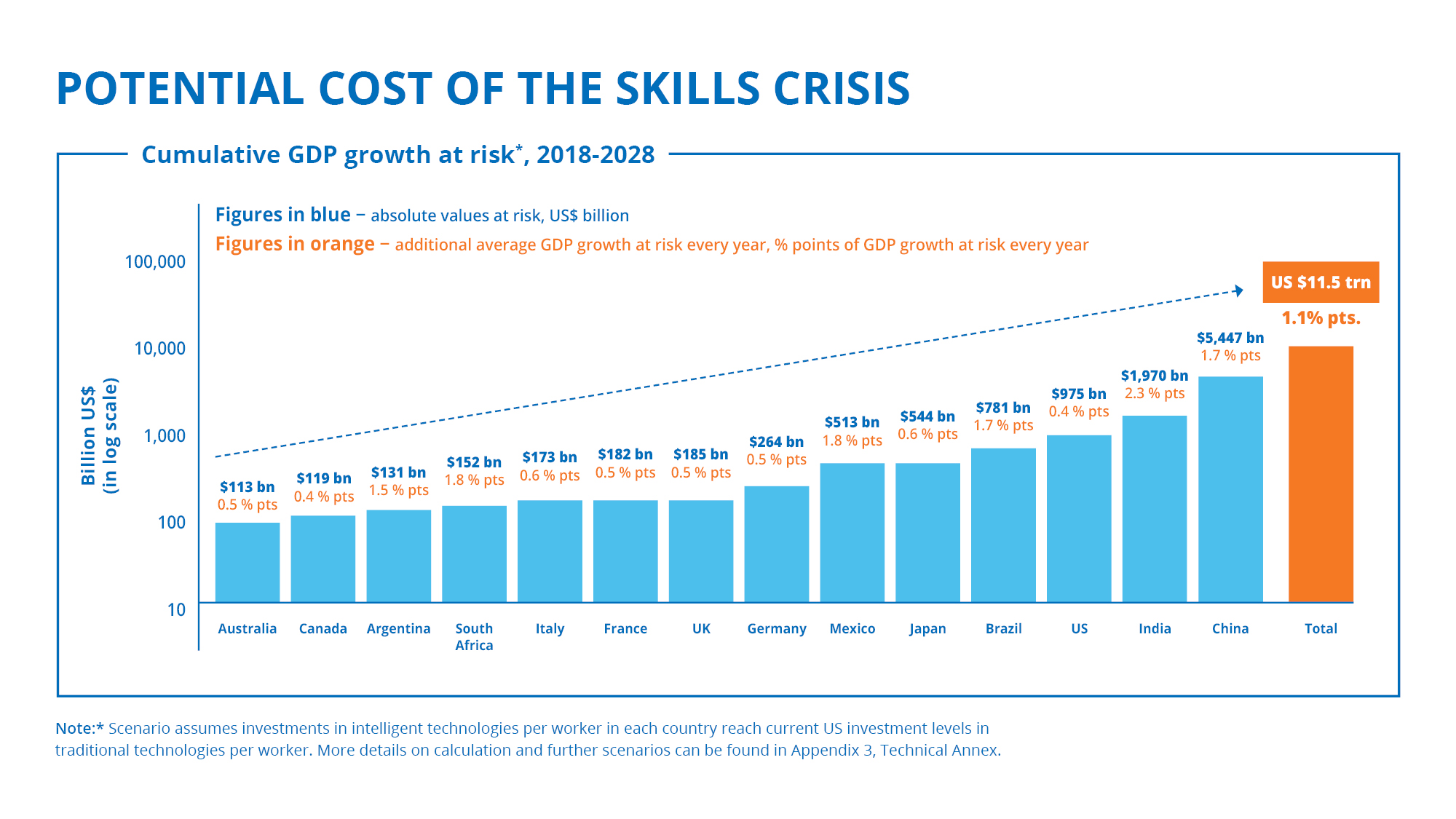 How to identify the size of your digital skill gap?
Start by taking a digital skill test to understand where you and your team currently stand. There are many out there on the internet. This is an example.
Digital skill tests will enable you to not only identify the skill gaps but more importantly aid you in putting together a learning roadmap not only for you, and your employees but also guide your organization to focus and invest in long-term skill development.
One thing to keep in mind is to differentiate between soft and hard skills.
When it comes to job skills, there are two main types:
Hard skills are specific abilities or knowledge sets that are required for a particular job that can be defined and measured. For example, if you're applying for a job as a web developer, hard skills might include HTML, CSS, and JavaScript.
Soft skills, on the other hand, are more general personal attributes that can help you succeed in any job. Examples of soft skills include communication, problem-solving, and time management. Soft skills, on the other hand, are harder to quantify.
Although soft skills are more challenging to measure, they're often just as important as hard skills when getting hired. Employers are increasingly looking for candidates who have strong, soft skills because they know that these skills are essential for success in the workplace.
As you assess the types of skills. Take into consideration the level of experience. Are they:
Beginner: Started learning the skill and are still getting used to it. They understand some basics, but not enough that would be considered advanced knowledge for this subject matter

Intermediate: They have the skill, but not quite enough to be considered an expert. This is a good level for people who want more experience in their field and can use it efficiently without having any major flaws or mistakes with how they do things.
Expert: A highly developed skill level. You have solid experience and training with the skill and understand advanced concepts. You have extensive knowledge of the subject matter that qualifies you as a true expert-in fact just reading through some examples here.
Need help reskilling the workforce of today - and tomorrow?
Organizations are under increasing pressure to know their customers better, personalize each interaction, and engage with them on their channel of choice. To do this effectively, they need to clearly understand the existing digital skills gaps while understanding customers' digital behaviours, preferences, and expectations.
Bubblebox can help organizations evaluate themselves across four core categories: strategy, customers, technology, and operations. This survey provides valuable insights that can help organizations improve their customer experience and build deeper relationships with their customers based on your knowledge of the existing digital skill gaps.
Start the Bubblebox Digital Matrix Assessment to see where you stand.
It'll take less than two minutes.
Upon completion, you'll receive an email copy of your scores.
Leverage your results as a way to bring your teams together and work together to close the skill gap. Share your results with each other. Identify differences and gaps in your scores. Have a conversation to understand the why and work towards a common goal.
---
1 Source: Salesforce: https://www.salesforce.com/news/stories/salesforce-digital-skills-index-details-major-gaps-across-19-countries/
2 Source: Salesforce: https://www.salesforce.com/news/stories/salesforce-digital-skills-index-details-major-gaps-across-19-countries/
3 Source: Accenture: https://www.accenture.com/_acnmedia/Thought-Leadership-Assets/PDF/Accenture-Education-and-Technology-Skills-Research.pdf#zoom=50
---