By
Alex Mazzarella - Technical Consultant
-
Say you're a marketer for a retail store looking to create more stickiness.
You're already leveraging email addresses collected from newsletter signups, and you know that valuable data is collected from your customer touchpoints.
So, how can you create re-engagement opportunities to market other than via email lists collected in your preference center and leverage the additional data collected through the customer's touchpoint?
And how can you achieve this with a small marketing team using Salesforce Marketing Cloud?
Data can be stored in Salesforce Marketing Cloud
"All Subscribers" is where you will get a birds-eye view of all subscribers in your database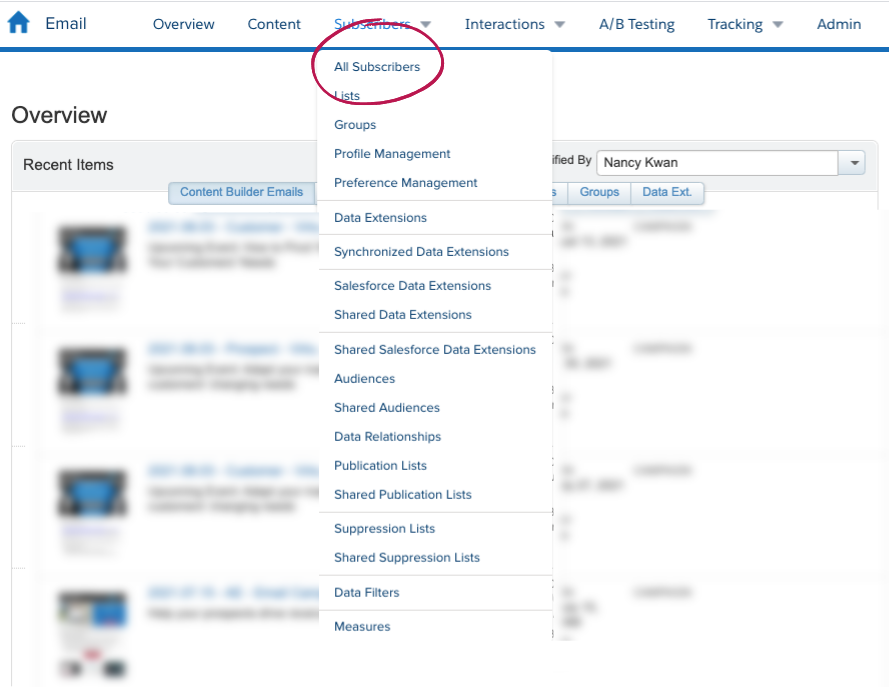 If subscribers unsubscribed from here, they are unsubscribed from all of your lists and groups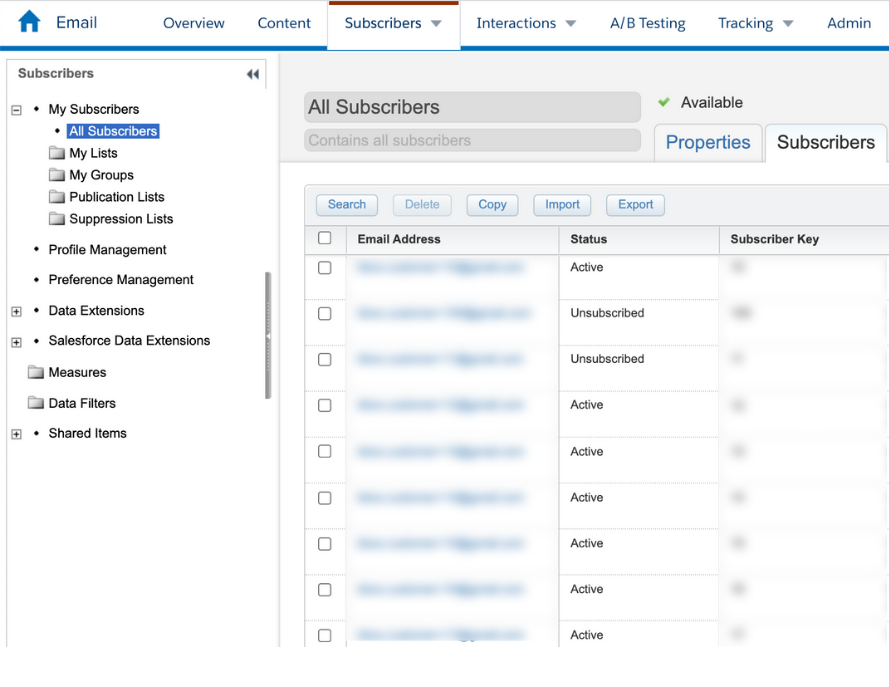 Why does it matter?
Depending on your campaign objectives, you will want to organize the data of your subscribers to easily access the information you need to turn your readers into customers

It is crucial to know how to work with your data, especially if you're looking to target your campaigns and send subscribers content that they want to read
Introducing Lists vs. Data Extensions
There are two ways to sort and manage data: Lists and Data Extensions

Lists are limited in function and sort data based on basic information

Data Extensions are more flexible and allow you to sort data to provide more meaningful information and context
Let's break it down
Lists
A compilation of subscribers that have provided consent to receive your communications

Lists have attributes, such as email address, subscriber key, subscriber status (active/unsubscribed), create date, added date, bounce count, unsubscribe date and more.

You can find all of your subscribers in the master All Subscribers list in your account

You can create as many lists as you need to segment subscribers and send out targeted content
Types of Lists
Master Unsubscribe List, housing all unsubscribed individuals for a single account

Global Unsubscribe List, housing all unsubscriber individuals from all accounts (if you have multiple accounts)

Exclusion List, with subscribers you decide not to include in some campaigns. For example, if you have subscribers overlapping in 2 lists that you are sending the same email campaign to, you can choose to exclude them during the 2nd send so that they only receive the email the first time
Advantages of using a List

A List can be configured to send a welcome email when a new subscriber opts-in.

Lists also give you the option to enable double opt-in for new subscribers to receive an email containing a link to confirm their email address. When the link is opened, their status changes to active, and they receive messages sent to that List. The subscriber remains unsubscribed until the link is open.
Disadvantages to using Lists
If a recipient unsubscribes from the All Subscribers Lists, they are unsubscribed from all your Lists.

If they are unsubscribed from one List, they are only unsubscribed to that one List only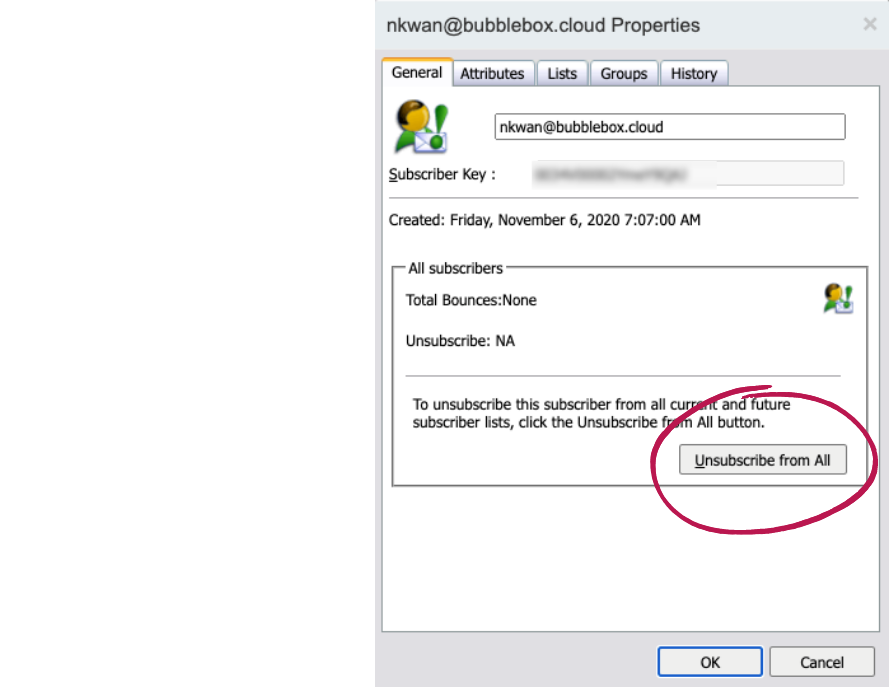 Lists can only store certain information but not all.
Data Extensions
A table that presents your subscriber data in a more meaningful way than a list by providing context

Stores contacts just like a subscriber list and include information about each customer, such as custom preference center consent information, cart history, purchase history, rewards program data, third-party data, and more.

You can customize the structure that you need with required fields, uniques, defaults, etc

The default data extension retention policy deletes unused data extensions after six months - runs overnight

You can connect this with your e-commerce platform to pull valuable data, such as previous purchases, and organize to segment customers to send them relevant data
Types of Data Extensions
Standard Data Extension allows you to create custom fields to store data. This Data Extension Contains a Master copy of the data.

Filtered Data Extension, generated by filtering fields, measures, and filters for sendable data extensions from a source data extension. This data contains a set of filtered customers, which are helpful for specific email communication.

Random Data Extension allows you to randomly select subscribers from a master data extension
Advantages of using a Data Extension
You can import and store data from third-party data sources. Imported data can be used to help segment subscribers or to include dynamic email content.

Data Extensions can hold any information you need to collect, such as:

Address

Affiliation

Purchase history

Communication topic preferences

And more!

Data Extensions can point to other Data Extensions that hold even more information. These are called relational Data Extensions.

Data Extensions are typically defined as Sendable and/or Testable. Sendable can be used for sending emails. Testable can be used for testing emails. A Data Extension can be both, either, or neither.

Using Data Extensions gives you the ability to use Publication Lists (different from Lists described above) to manage unsubscribes in a granular manner.
Disadvantages to using Data Extensions
No welcome email or double opt-in options.
Quick overview between Marketing Cloud Data Extensions vs Lists
List

Each list houses 500,000 subscribers or less long-term

You prioritize simplicity over performance.

Your import speed is not a barrier.

You can work with limited attributes for subscribers.


Data extension

Each list will have 500,000 or more subscribers

You're working with multiple subscriber data sets (with separate definitions)

Your messages are global

Your import speed is a huge priority

You're using triggered sends

You're using the SOAP API

You prefer a flexible subscription model
When to use lists vs data extensions in Marketing Clouds
Use a list when you
Use a data extension when you
Number of Subscribers

have less than 500,000 subscribers

have more than 500,000 subscribers

Subscriber Attributes

have a limited number of subscriber attributes

use multiple subscriber data sets

Types of Sends

are sending emails only;
are sending emails without transactional data

are sending global messages;
are implementing trigger sends

Personal Preferences

prefer flexible subscription models/preference centres
If you're starting out and/or know that you're going to be responsible for the creations of lists or data extensions for your organization, here's a few additional differences that would be of benefit for you to know:
Lists
Data Extensions
Creating

Name it
Determine if public or not public (example: displays in preference entre)

Name it
Create fields.
Choose sendable or not sendable

Quick Import

(Import Wizard)

Single Record Add

No manual add feature but can be done via API calls

Import Activity
Update Options

Add and update
Update only
Add only

Overwrite
Add and update
Update Only
Add only

Publication List

Use to manage Subscriber-level Opt-ins/outs

Web Collect
Profile / Preference Attributes

Can create via UI at Enterprise Level accounts. The value stored is global. Data types: Text, numeric, date, boolean

Data Extension Fields

Subscriber data fields stored at the data extension level, which makes them like a list-level attributes data types: Text, numerics, date, boolean, email, phone, decimals, etc.

Export Data
Quick Export
Automated Export
Need help?
Are you a new or existing Salesforce user and need help setting up your Marketing Cloud? Contact us today.
--
See what other subscribers are reading:
--
Sources:
https://trailhead.salesforce.com/en/content/learn/modules/audience-segmentation/organize-your-data
---